Reviewed by: Geir Gråbein Nordby – Lyd&Bilde – LINK: Lyd&Bilde – Reviewed date: 2019-05-03 Reviewed product: Sodapop Bluetooth Bass Bottle Speaker   Evaluation: 6 out of 6 stars
The Sodapop portable speaker takes up zero space, but is a great invention.
PLUSS: The sound is clear and surprisingly rhythmic. Screw the speaker into a bottle and the bass is fuller than some competitors of similar size.
MINUS: The bass could always be firmer, but it feels unfair to subtract any points for something at this price.
The market is flooded with small, inexpensive portable speakers. But no one is quite like this.
Norwegian Sodapop has developed a small, barrel-shaped speaker, only 10 cm in length. The SP-BB01, as it is called, thus takes up zero space in your purse or luggage when you are traveling. But then the rabbit is pulled out of the hat, the ace out of the sleeve, or whatever other wordsmithing we should find. Because on the underside of the splash-proof speaker is a screw opening, designed to screw the speaker into a bottle. A perfectly ordinary soft drink bottle, you must know. It more than doubles the speaker's internal volume, allowing for stronger and fuller bass.
And it works! If you turn it on an empty half-liter bottle, you get significantly larger sound than you without, and speakers like Music Angel, JBL Clip and other speakers of the same size can just go to sleep!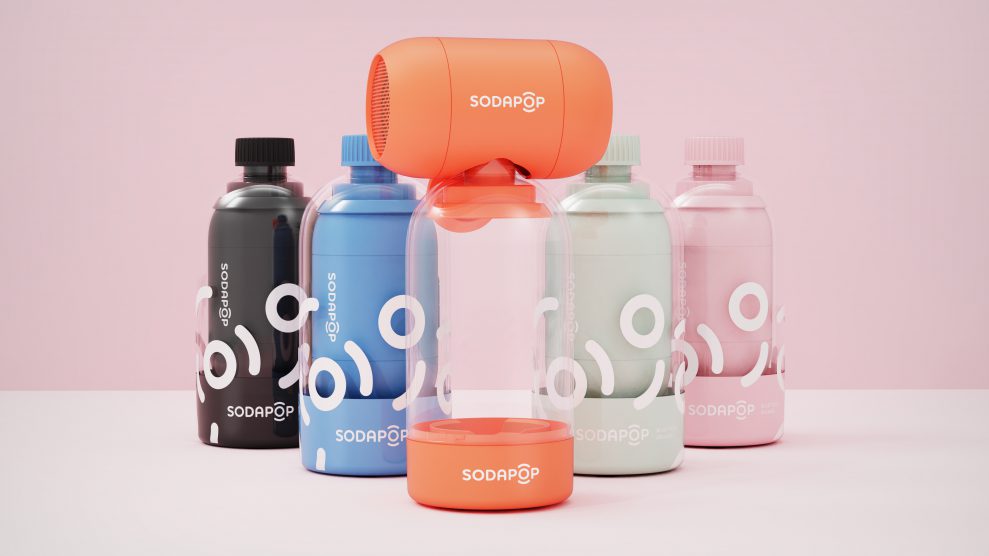 Photo: Sodapop
The sound of Sodapop
The Sodapop has a stereo sound with 2 x 4 watts. Singing voices comes out well from it, pure and clear. Instruments are perfectly fine, it never sounds foggy. But to go into depth when describing the sound of a product like this seems a bit unnecessary. The important thing to bring with you is that it sounds clear and good enough when traveling around, and along with an empty bottle, the sound grows significantly larger than the speaker's own size normally allows. Which makes this a brilliant product when you are traveling a lot.
As the little thing that makes this speaker extra special, Sodapop has packed the speaker in a specially designed bottle in hard plastic, where the bass response has been accurately calculated in relation to the speaker. The bottle even has a passive radiator element at the bottom for a most extended and effortless bass. You can of course also take it with you on journeys. It takes up a little more space in your luggage, but then you are guaranteed that the sound will be exactly as Sodapop intended.
Connection and equipment
By the way, Sodapop has Bluetooth 4.1, which guarantees 10 meters of wireless connection. The battery life is stated for up to 30 hours continuously on a charge, and the speaker even has a built-in microphone for mobile calls. Not bad for a speaker for under 50$! Charging the speaker with micro USB and not USB C is easily forgiven.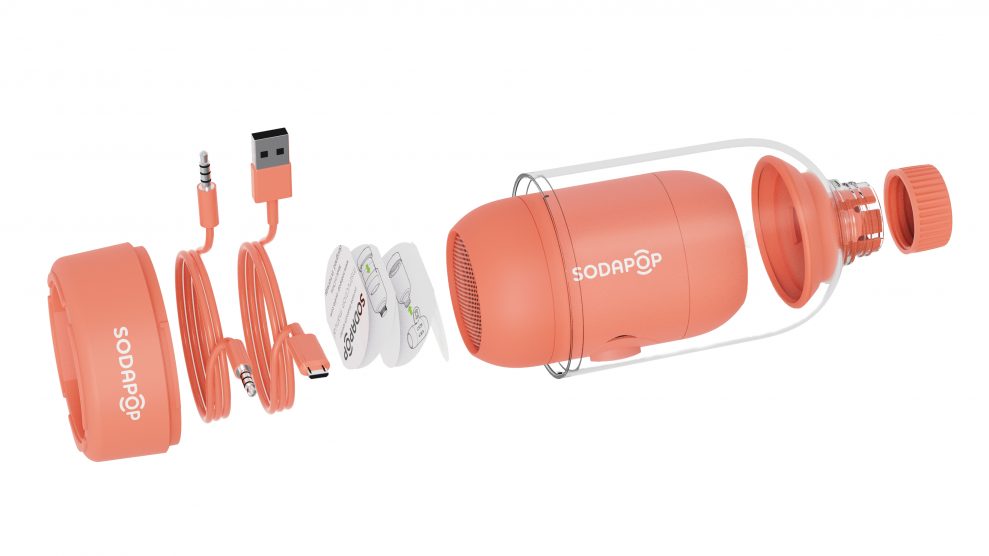 The speaker comes with a bottle, audio and charging cables. Everything can be fitted inside the bottle.
Conclusion
One of the world's coolest Bluetooth speakers costs only about US50$. It takes up zero space, but is a great invention. It's ultra-portable, but by screwing it into an empty bottle, the bass strengthens to become a pretty entertaining thing.
The speaker has a long battery life (30 hours), a built-in microphone for mobile calls, and a specially crafted bottle that is precisely sized for the speaker to make the most of it. What more to ask for at this price we have no idea.